As part of your home, a garden should provide you with a peaceful, natural and carefree harbor. During the day, the sun provides enough light for the courtyard, but when the sun goes down, other sources of light become necessary. Light string lighting is a simple and economical and romantic way of outdoor lighting, the shape can be arranged according to the needs of the scene. If you don't want to make it too complicated, just hang them up and turn on the electricity, and you'll be able to enjoy an outdoor romantic space with a "sky star" on one side. At night, soft lighting can visually transform a normal garden into a good place for a party, or use its seductive lighting effect to perk up a darkened walkway. If the garden has perfect trees or fences, the light string is easy to install; If there are no trees, fences, or other tall supports, the string of lights doesn't take much time or require much extra equipment. So how do you hang a string of lights from a deck, yard, balcony, garden, or other place?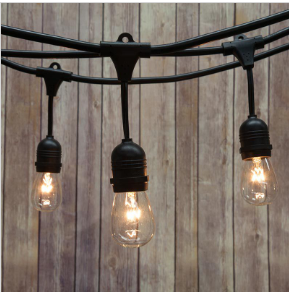 String Lights
Tools and materials: garden outdoor suspended string light, outdoor extension cord, tape, pencil or painter's tape, metal hook, drill, ladder. For large area light string: light string suspension kit (including wire rope and suspension hardware such as turnbuckle, spring hook, lock clamp and eye pad with screw), wire cutting pliers. For there are no trees or other large supports the yard: 10 feet long wooden poles or 10 feet long metal rods, hammers, nails or screws, solid drill or filled with the concrete and the middle is equipped with PVC pipe groove bucket, 18 inches long metal reinforced piles, nylon cable tie, mini socket pendant light lamp cord.
Preparation before starting: 1. Select the location where you want to hang the string of lights: select the location where you want to hang the string of lights and determine a power source. If there is no external outlet, use an outdoor extension cord. 2. Measure the length of the lamp string and roughly determine the lighting configuration. Before purchasing a light string, measure the distance along which the light is hanging with a tape measure, including any zigzag or cross configuration. This can be a fairly rough estimate, such as measuring twice on a 25-foot-wide terrace, just to understand the length of the light required. 3. Buy wires and lights and collect all materials. Skip the cheap string of lights, invest in commercial-grade yard lights and mark them for outdoor use, which are more durable, waterproof, and can be used outdoors permanently or year after year.
Zhongshan guocong lighting co., LTD is a garden party string lights supplier. So how to hang a string of lights?
1. Determine the position where support needs to be installed. In determining the location, arrange ropes along the ground to locate them, or ask a friend to help you prop them up, then mark the X with a pencil, or place a piece of painter's tape where support is needed. Trees, fences, porches, pergola roofs or eaves make perfect existing supports, and if they are in the right place, mark where hooks are needed. What if there is no perfectly positioned natural support? You can learn how to hang a string of outdoor lights in a treeless yard.
2. Install hardware or use lightweight suspension kits, or both. There are two ways to install the string: individually or connected to a sturdy wire, as part of a lightweight suspension kit, and not directly to the wire. If the light can be strung over a larger space, this method can maintain tension, and if the space is large, it can also provide more support.