If there are no wall or tree lights, some extra effort is required to support the garden lights. Christmas waterproof string lights supplier shares with you.
Along the wooden fence, set up supports. If the wooden fence is not high enough, a 10-foot-long wooden post can be installed at the top with cup hooks to increase the height of the lights. Along fence posts or posts about 8 feet apart, secure the posts to the fence posts with side studs (Angle studs), or screw the posts to the fence using a drill bit.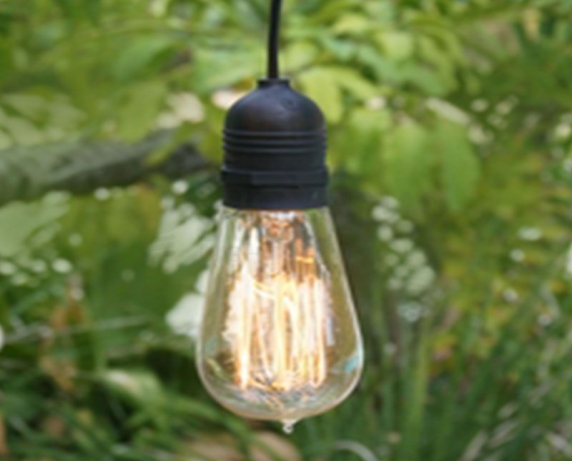 To provide height and support for outdoor light strings, columns can be installed on the roof railings. If you install a string of lights on a lawn or anywhere else, you can insert a stake into the ground.
The simple way is to use a 10-foot long electronic metal tube rod;
Then, each lamp pole is fixed on the ground with metal reinforced piles.
To do this, you need to buy an 18-inch long steel pile for each EMT pole;
Place the pole where it needs to be supported;
Use a hammer to put half of the column on the ground;
And slide the hollow EMT rod onto it.
A simple and convenient way to connect the lamp to the EMT pole is to tie the cable. Ask a friend to hold up the lights for you so you can work in the yard and carry cables with you.
If there is a hole at the end of the EMT pole, tie the cable through the hole and the end of the pole and pull it to form a loose loop around the lamp line.
If there are no holes at the end of the EMT pole, use a tie belt to create a ring (tie the cable tie to itself around the string of the lamp string) and another cable tie ring to tie the lamp string to the top of the EMT pole.
Our company manufacture commercial weatherproof string light, welcome to contact us.