What are Low Voltage LED String Lights?
Low voltage LED string lights work with any transformer in a low voltage lighting system that reduces a standard line voltage of 120-277 volts down to 12-14 volts. The flexibility and versatility of low voltage lighting make LED string lights the perfect match.
This product is a fan-favorite for many reasons, one of which being its seamless ability to join existing 12V landscape lighting systems or anywhere you have low voltage lighting but no outlet.
Choosing the beauty and brilliance of LED lights with 12-volt landscape lighting system compatibility means a few different things for you.
1. You're able to conveniently tap into your low-voltage lighting system for power.
2. These light strings achieve a year-round appeal that works for a plethora of applications before and after Christmas time, so you get the most bang for your buck.
3. The powerful, bright LED light illuminates areas with low visibility while remaining energy efficient.
4. With professional-grade designs and longevity, you're able to easily blend into indoor and outdoor surroundings while guaranteeing brilliant light for months to come.
Low voltage LED string lights combine convenience, beauty, and affordability into one reliable product.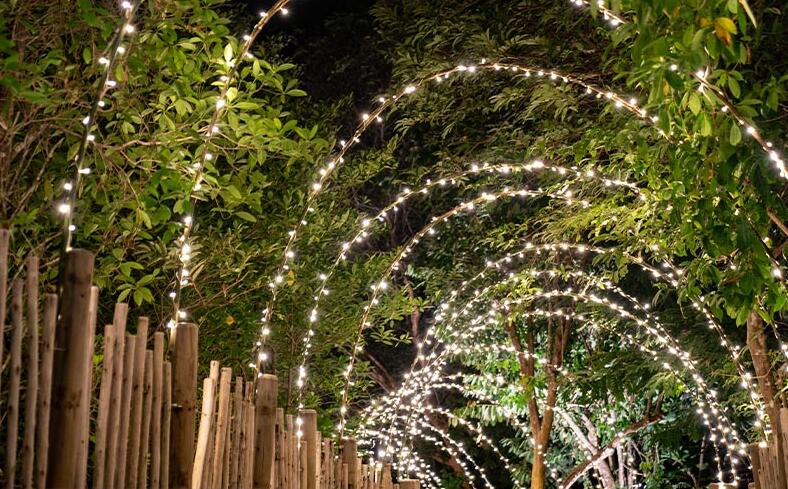 Why You Should Buy Low Voltage LED String Lights
Discover more noteworthy features of low voltage 12V AC string lights below and see for yourself why you should buy them for all your decorative needs!
● Expandable String Design
An expandable design feature means your light string can grow with your trees to create a magical garden and landscaping bed experience. Safely you can connect up to 18 sets end-to-end.
● No 120V Outlet Required
This feature is exceptionally useful for areas where you don't have access to outlets. Have no fear! Power your lights directly from your 12V AC low voltage transformer. Tap off an existing line or run a new line from the transformer.
● Energy Efficient
The brilliant, bright look of LED lights uses only 1.92 watts per set!
● Simple and Elegant Appearance
A no-fuss product look is convenient for any application, no matter indoors or outdoors.
● Thin, Green Wire
The natural green color and thin wire width are easy to hide and blend seamlessly into greenery and foliage.
● Weather-Resistant Construction
Durable, water-proof lighting is great for landscape beds, parking lot islands, and gated entrances. Light strings can withstand any weather condition mother nature throws its way, so there's no more stressing about set failure!